Professional waste management for collection companies
Overview of
emptied containers
Thanks to an overview of the real number of emptied containers, you can very easily prepare an objective invoicing for services.
Loading RFID chips during container emptying takes place automatically, which saves your employees' time and simplifies their work.
Vehicle routing
optimization
Based on historical data, you can plan the ideal vehicle route according to collection days, thus saving your costs.
Monitoring of
container emptying
Thanks to information on waste collection you will find out when and where waste was collected. You can see the data in real time on a map.
Notification of
changes in collection
ESONA will allow you to easily alert residents about any changes in the collection of municipal and sorted waste.
Registration
and management
All information on waste collection will be available in a central system, which you can access from a computer or smart phone.
Eco-friendly waste management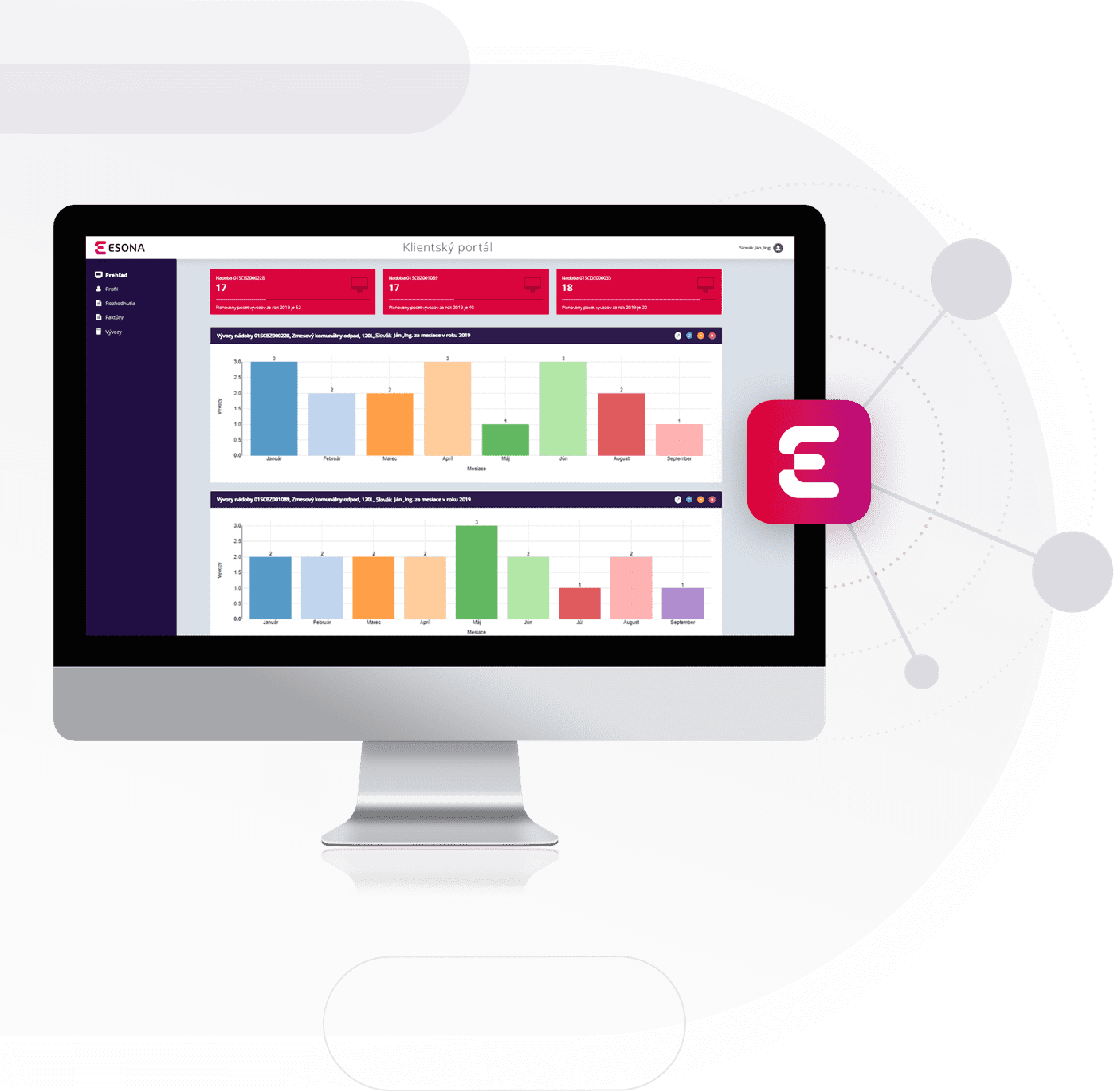 Connection to the municipality and collection company ISs
ESONA collects comprehensive information on all waste containers connected to your ERP system. Every single emptying is recorded contact-free and automatically in the database. Thanks to the connected data with the municipalities, you will find out the exact number of exported waste containers and their content amounts. You can use the information from the system as bulletproof arguments for business negotiations. It will also simplify the invoicing of delivered services.
Contact-free and automatic recording of container emptying
Quick identification of irregularities in waste registration or collection
Overview of the actual number of emptied containers
Transparent basis for invoicing
Benefits for
collection companies
ESONA will serve as a control mechanism, thanks to the possibility of tracking waste collection on a map in real time. Based on historical data, you can prepare the ideal vehicle routing, which will help you save variable costs. In addition, by connecting to the entire information ecosystem, you can alert residents about changes in the waste collection schedule, thus increasing its efficiency.
Display of collection on a map in real time
Data for optimizing vehicle routing
Possibility to notify on changes in collection